<< My "reading" list for the Fall Quarter | Front Page | For Interpretation >>
Thursday, September 25, 2008
Laissez-Faire Bingo
"It seems that anyone who attempts to have a frank discussion about labor and/or capitalism finds themselves staving off the same arguments again and again."--The Girl Detective @ Alas, a Blog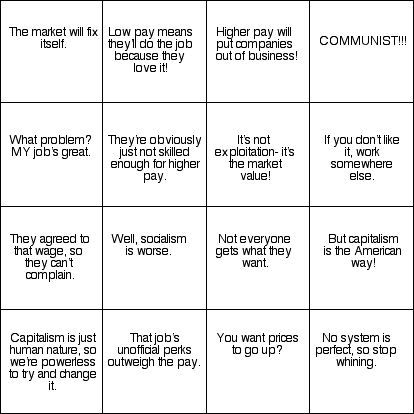 cross-posted from howtheuniversityworks.com
All year long over at the Chronicle's Brainstorm, I've been grappling with market fundamentalists (Why doncha go where the Market will pay ya! My big wages and your little wages are fair 'cause the Market says so! Don't look at the little pinstriped men behind the curtain!).
So have others trying to suggest what any actual student of economies knows: markets are social formations, closely and carefully managed by law, power, appropriations, policy, and culture. That includes the system for proletarianizing faculty colloquially and fallaciously known as the "job market" (long since turned into a market in contingent appointments, not jobs).
As the current drama fairly conclusively demonstrates, all of our markets are carefully managed to advantage the holders of enormous wealth, as well as their most loyal servants. Not everyone's consciousness is so aggressively shaped by material circumstances, but there's always a few who are especially eager to believe the things that are most convenient.
Most recently, a couple of real clowns weighed in to insult and attack Melanie Hubbard, the Columbia Ph.D. willing to put her face on camera and describe the life of contingency the "market" imposed on her for the radical choice of trying to live in the same general region as her family. Yep, it's just her choice and bad judgment.
The Girl Detective over at Alas, A Blog continued the the Hubbard conversation late last month--running into a pack of true believers from the same church, wisely kicking one or two of the most hostile clods out of the conversation, after giving them a fair chance to be respectful. For Labor Day, she reflected on the conversation, adapting and posting the Laissez-Faire Bingo chart above. ("It seems that anyone who attempts to have a frank discussion about labor and/or capitalism finds themselves staving off the same arguments again and again.")
Not that I think posting their playbook will make any difference. Last time I posted on the way current events refuted their faith--the airline companies pleading for regulation of the oil market--there was total silence from the fundamentalists for a week or two, and then they came out of hiding again with the same old cant.
I expect it'll be the same this time.
---
Comments
Marc,
I think this observation is true about many topics, including the U.S. two-party political system and the existence of God. It's enough to give credence to the old notion that it's not the logical validity of an argument that counts, it's the cultural/social/institutional conditions that make certain arguments persuasive (possible?). In other words, we need a sea change.
Marc,
I haven't read your book yet, but I'm getting around to it (I'm in the first semester of my Master's program and have a lot of things to read right now).
I don't mean to explain away the exploitation of contingent labor as a response to market forces at all, but has there been any attempt to link the change in undergraduate-teaching-labor to the (apparent) increase in the enrollment and size of universities in general?
I don't have data, natch, but it seems like people are attending college in numbers greater than ever before, and this seems to have held true for the past 30 years or so (if not longer, but if anyone has any data which would confirm or undercut my hypothesis please share it).
Are university administrations scrambling to supply the quantity of labor their ever-increasing enrollments demand? Given the demographic trends, is it possible to hire TT faculty at such a rate that there would be a net decrease in the proportion of labor being performed by permatemped workers?
Add a comment: